Hand knitted lavender filled sachets:
Hand knitted with wool from local hudson valley sheep and filled with our natural lavender. A unique gift and heirloom.
Price: $10 each.
Colors: Yellow/mustard, pink, aqua, purple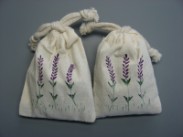 Hand painted lavender motif sachet filled with natural lavender.



Price : $7.00 each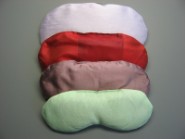 Silk dupioni
eye pillows:



Filled with natural lavender and flax seed. Keep in refrigerator or freezer and use on eyes to remove puffiness. Helps relieve headaches.



Price: $16.00 each



Lavender soap:
Hand made with natural ingredients. Its rich lather and exfoliating ingredients exhilarate the skin leaving it refreshed. Ingredients: Oils of Palm, coconut, olive and palm kernel, natural lavender essential oil, lavender blossoms, rosemary extract.
Price: $5.00 each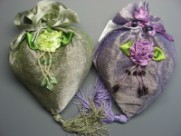 Lavender filled fancy heart shaped sachets with tassel:
One heaping cup of natural lavender makes this a beautiful gift for any occasion.
$15.00 each
Colors: Sold Out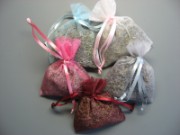 Lavender filled mini sachets:



Perfect for drawers, shoe toes, linen closet, travel bags etc.



Price: $3.00 each




Colors

: Assorted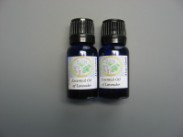 Essential Oil of Lavender
:


Considered by many aroma therapists to be the most versatile of all essential oils. Lavender is a natural relaxant and stress reliever.
10ml bottle.
Price: $11.00 each
Soy wax and Lavender Candle:
In a convenient travel tin, non-metal natural wick. Light up wherever you want a magnificent aroma of lavender.

Price: $7.00 each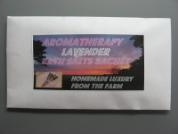 Lavender Bath Salts: Lavender is the number one choice for bath salts because of it's therapeutic, soothing, stress relieving and relaxing qualities. Lavender essential oil is beneficial to the skin and can help heal wounds and reduce inflammation with it's natural antiseptic qualities. Our homemade aromatherapy bath salts consists of an epsom salt and sea salt blend, with our natural pure essential oil of lavender and natural berry pigment.
Price: 2 oz sachet: $5.00